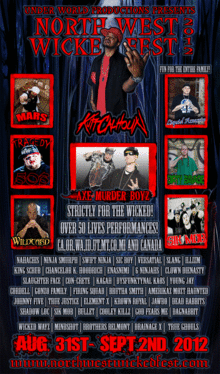 That's right another huge performance from AMB is comin up this weekend in Newport, WA at the North West Wicked Fest!!! A 3 Day event goin down on a major party scale! Mad music, madness and mayhem! Many artists from all over the US will be in attendance an performing and the list is devastating. AMB is slated to headline this Saturday. Check out all the info in this link:
Click Here For Tickets and/or Info
Reptheaxe.com brings back $5 CDs and all new merch!
Head over to Reptheaxe.com right now to get your hands on $5 AMB CDs! Plus new fresh items have been added to the merch store! Go now while items last!